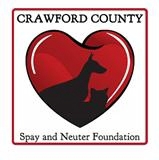 321 Mitchell Avenue Robinson, Illinois 62454
Phone 544-2555 Email CCSNF@live.com
ABOUT US
Crawford County Spay & Neuter Foundation (CCSNF) is a not-for-profit organization dedicated to offering year round low-cost spay and neuter services for cats & dogs to Crawford County Illinois residents. We are located at 321 Mitchell Avenue in Robinson, Illinois. All spay and neuter fundraising and administrative functions are strictly performed by volunteers, we have no paid staff.
OUR MISSION
Our mission is to help reduce the overpopulation of cats & dogs in Crawford County. We do this through our efforts in low-cost spay and neuter services and through educating the public on the importance of spaying or neutering their cat or dog. We also dedicate some of our time in reducing the feral cat population in the county through a TNVR (Trap-Neuter-Vaccinate-Release) Program.
As of June 2009 we were Incorporated and have received our not for profit tax exempt status.
CCSNF is an independent foundation and is not affiliated with the Crawford County Humane Society. We do strongly support the role they play in our community.